Bon Iver
with special guest Dijon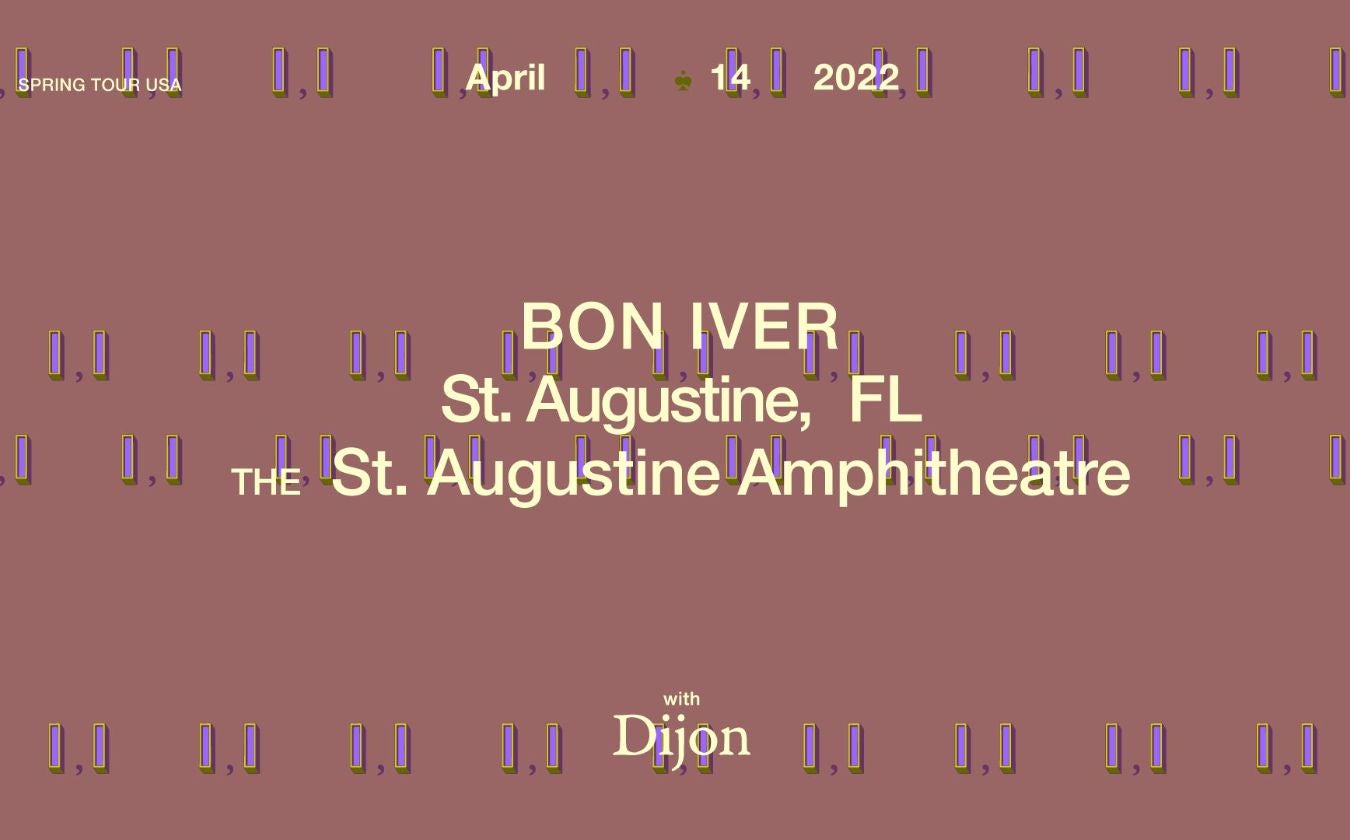 Apr
14
, 2022
Bon Iver
with special guest Dijon
Date

Apr

14

, 2022

Event Starts

6:30 PM

Doors Open

5:00 PM

Ticket Prices

$49.50 – $99.50

On Sale

On Sale Now

Pit Type

Seated
Bon Iver
with special guest Dijon
Event Details
Bon Iver (Justin Vernon) is a singer/songwriter from Wisconsin whose sparse, otherworldly indie folk has made him an award-winning critical and commercial success. Bon Iver's debut album For Emma, Forever Ago, became one of the landmark albums of the late-2000s indie folk sound. Vernon's sparse sound and pure vocals caught the attention of people looking for something folky, yet not folksy in any way. Further albums refining and shifting their sound bolstered Bon Iver's popularity and widened the band's fan base.
The Bon Iver story begins with the breakup of Justin Vernon's indie folk band DeYarmond Edison. Although formed in Wisconsin, the band had decamped to Raleigh, North Carolina before dissolving due to artistic differences. Vernon moved back to Wisconsin, setting up camp in a remote cabin in the north woods for three months. It was a hugely generative period for Vernon; he wrote and recorded introspective and emotionally wracked songs in 12-hour bursts and found himself with a nine-song debut album by spring. He dubbed the project Bon Iver (an intentional misspelling of the French phrase "bon hiver," meaning "good winter"), and the disc, For Emma, Forever Ago, was released on Jagjaguwar in early 2008.
Vernon and the Bon Iver live group (which consisted of Sean Carey, Matthew McCaughan, Mike Lewis, and Andrew Fitzpatrick) began introducing new songs into their concerts in 2018. They played a variety of festivals and shows, often accompanied by the dance troupe TU Dance. Meanwhile, Vernon and a very large cast of musicians and singers -- who included Moses Sumney, Jenn Wasner, Bruce Hornsby, and James Blake -- worked on an album that incorporated some of the electronic feel of 22, A Million while also reaching back to the full sound of the second Bon Iver album. After a short promotional run-up that included surprise releases and striking videos featuring members of TU Dance, I, I was released in August of 2019. It received Grammy nominations for Album of the Year and Best Alternative Music Album, as well as Record of the Year for the track "Hey, Ma."