Fort Mose Jazz & Blues Series: Christone "Kingfish" Ingram
with special guest Tinsley Ellis. Live from Fort Mose Historic State Park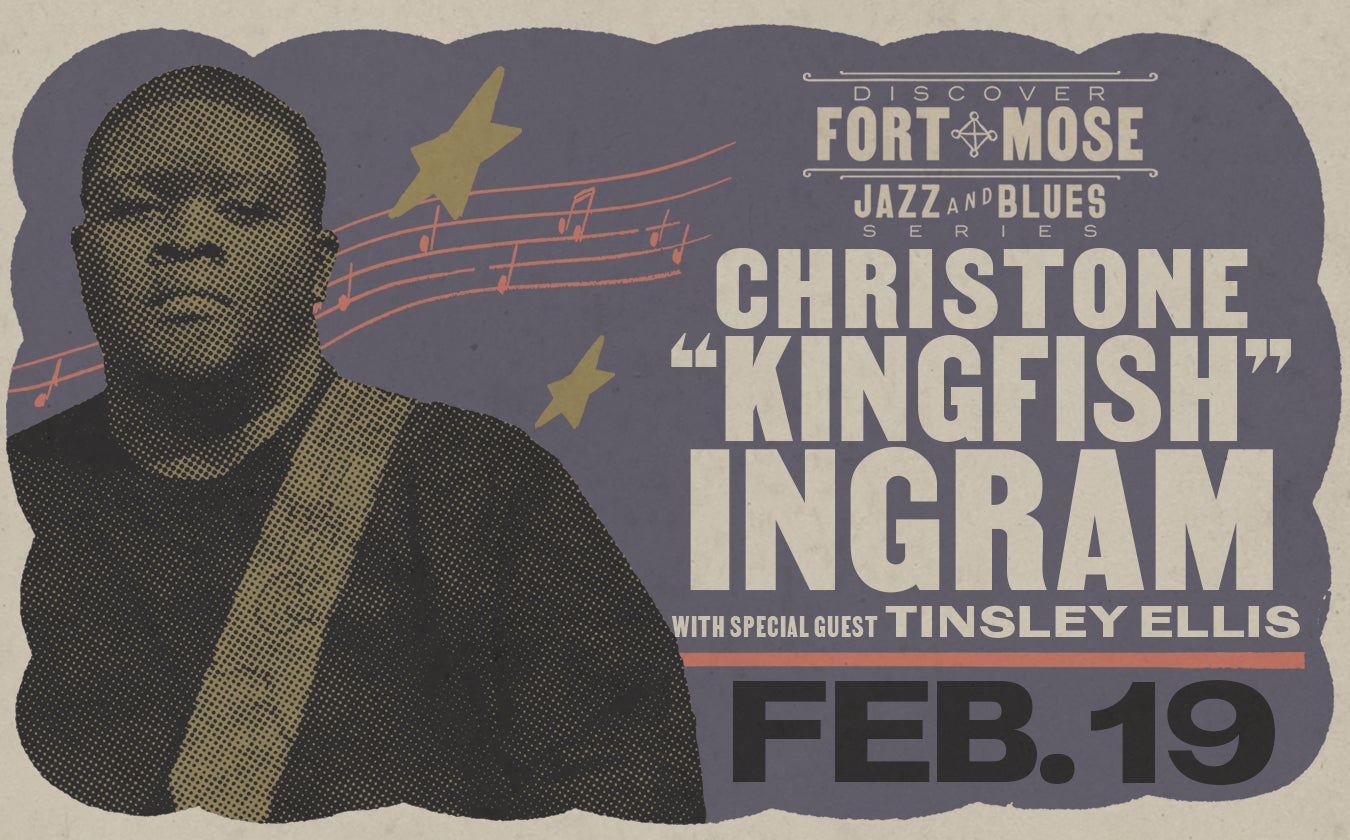 Feb
19
, 2023
Fort Mose Jazz & Blues Series: Christone "Kingfish" Ingram
with special guest Tinsley Ellis. Live from Fort Mose Historic State Park
Date

Feb

19

, 2023

Event Starts

7:00 PM

Doors Open

6:00 PM

Ticket Prices

$62.00 - $92.00

On Sale

On Sale Now

Pit Type

Seated
Fort Mose Jazz & Blues Series: Christone "Kingfish" Ingram
with special guest Tinsley Ellis. Live from Fort Mose Historic State Park
Event Details
Since the release of Kingfish, his Grammy-nominated 2019 Alligator Records debut, guitarist, vocalist and songwriter Christone "Kingfish" Ingram has quickly become the defining blues voice of his generation. From his hometown of Clarksdale, Mississippi to stages around the world, the now 22-year-old has already headlined two national tours and performed with friends including Vampire Weekend, Jason Isbell and Buddy Guy (with whom he appeared on Austin City Limits). He was interviewed by Sir Elton John on his Apple Music podcast, "Rocket Hour", and recently released a duet with Bootsy Collins. In January 2021, Ingram was simultaneously on the covers of both Guitar World and DownBeat magazines, and graced the cover of Living Blues in late 2020. Rolling Stone declared, "Kingfish is one of the most exciting young guitarists in years, with a sound that encompasses B.B. King, Jimi Hendrix and Prince."
"Christone 'Kingfish' Ingram represents the next generation of great American blues artists." –PBS NewsHour
"Ingram plays guitar with dramatic, searing tone and sure-handed authority. And that's just in the studio; he's even scarier live." –NPR Music
Ingram has twice headlined his own national tours ("Fish Grease" and "Fish Grease 2"), performing multiple times at clubs, concert halls and festivals across the U.S. and Canada, including show-stopping performances at the Chicago Blues Festival, the Beale Street Music Festival in Memphis, the Bonita Blues Festival in Florida, The Waterfront Blues Festival in Portland, on the Legendary Rhythm & Blues Cruise, at sold out shows from New York's Brooklyn Bowl to Austin's Antone's to San Francisco's famed Biscuits & Blues to Los Angeles' legendary Troubadour and El Rey Theatre. He's performed in Europe repeatedly, including appearances at the Moulin Blues Festival in the Netherlands and the Blues Heaven Festival in Denmark.
Georgia troubadour Tinsley Ellis has been immersed in music his whole life. Born in Atlanta 1957 and raised in southern Florida, he acquired his first guitar at age seven, inspired by seeing The Beatles perform on The Ed Sullivan Show. Like many kids his age, Ellis discovered the blues through the back door of British Invasion bands like The Yardbirds, Cream and The Rolling Stones as well as Southern rockers like the Allman Brothers Band. 20 albums (and millions of miles traveled) later on record labels such as Alligator and Capricorn, Ellis has become an elder statesman of the blues world.
With his new project Tinsley Ellis - Acoustic Songs And Stories, Ellis performs many of his most popular songs (plus delta blues and classics by artists like Gregg Allman, Bob Dylan and Leo Kottke) on his 1937 National Steel and 1969 Martin D-35. Ellis weaves the music together with interesting and sometimes ribald stories from over 40 years of a life spent on stages and in motels and truck stops. Ellis shows no signs of slowing down and is headed your way with his newest and perhaps most unique project.
Additional Ticket Information
$92.00 VIP ticket includes one drink voucher, as well as exclusive access to the VIP-Only Tent!