Sing Out Loud: Yola with special guest Patty Griffin (Canceled)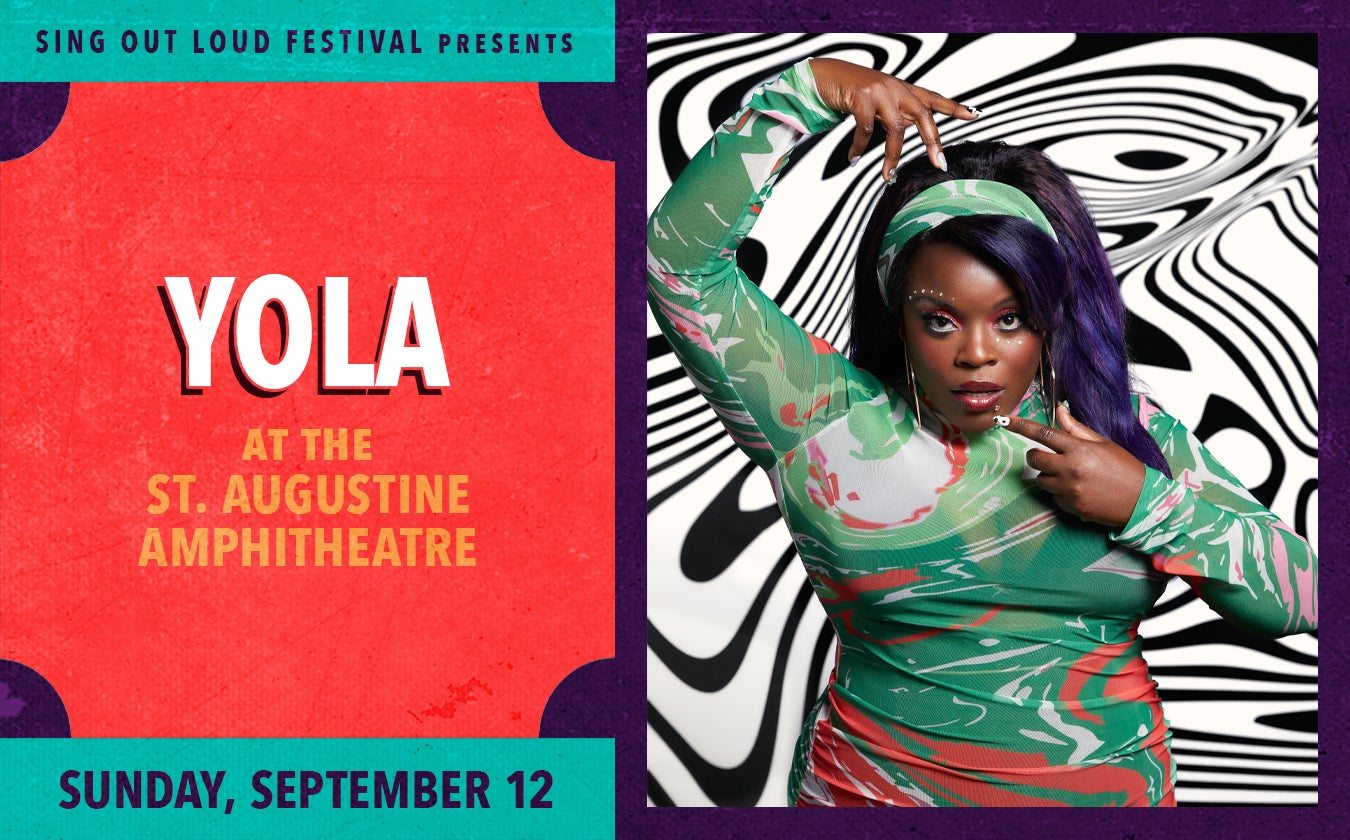 Sep
12
, 2021
Sing Out Loud: Yola with special guest Patty Griffin (Canceled)
Date

Sep

12

, 2021

Event Starts

6:00 PM

Doors Open

5:00PM

Ticket Prices

$20.00 – $25.00

On Sale

On Sale Now

Pit Type

Standing
Sing Out Loud: Yola with special guest Patty Griffin (Canceled)
Event Details
EVENT UPDATE
Due to circumstances beyond anyone's control, the Yola and Patty Griffin show on September 12 at this year's Sing Out Loud Festival will be postponed. Both artists are looking forward to performing in St. Augustine at a later date, we will keep you posted on new dates as soon as we confirm.
Refunds for the September 12 performance will be provided at the original point of purchase. LEARN MORE
---
"It's a paradigm shift." And as simply as that, Yola encapsulates the giddy expansiveness, stunning emotional breadth, and exponential musical growth of her sophomore album Stand For Myself, out July 30. She may only be saying four words, but it's a whole new world.
Everything about the album—musically, lyrically, spiritually—explores the epiphany that making decisive choices leads to freedom. If her critically acclaimed 2019 debut Walk Through Fire was an exhilarating exercise in country soul, Stand For Myself explores the concept of genre. The album features a fluidity of sound that defies categorization weaving elements of symphonic soul, mellifluous pop melodies, disco grooves, rootsy rawness, and ecstatic gospel power into a package with instant appeal.
For those who fell in love with the singular British artist on Walk Through Fire—and the love affair was fierce with both critics and the Recording Academy which recognized Yola with four Grammy nominations—listening to Stand For Myself is like stepping out of Kansas into Oz. Home may have been cozy and full of great songs, but it's time to take the Yola ride in full Technicolor. And there's no place like Stand For Myself.
Patty Griffin is among the most consequential singer-songwriters of her generation, a quintessentially American artist whose wide-ranging canon incisively explores the intimate moments and universal emotions that bind us together. Over the course of two decades, the 2x GRAMMY® Award winner – and 7x nominee – has crafted a remarkable body of work in progress that prompted the New York Times to hail her for "[writing] cameo-carved songs that create complete emotional portraits of specific people…[her] songs have independent lives that continue in your head when the music ends."
2019 saw the acclaimed release of the renowned artist's GRAMMY® Award-winning 10th studio recording, Patty Griffin, on her own PGM Recordings label via Thirty Tigers. An extraordinary new chapter and one of the most deeply personal recordings of Griffin's remarkable two-decade career, the album collects songs written during and in the aftermath of profound personal crisis, several years in which she battled - and ultimately defeated - cancer just as a similar and equally insidious disease metastasized into the American body politic. As always, Griffin's power lies in how, as writer Holly Gleason observed in Martha's Vineyard Gazette, "her songs seem to freeze life and truth in amber."