Venardos Circus
Let's Build a Dream Tour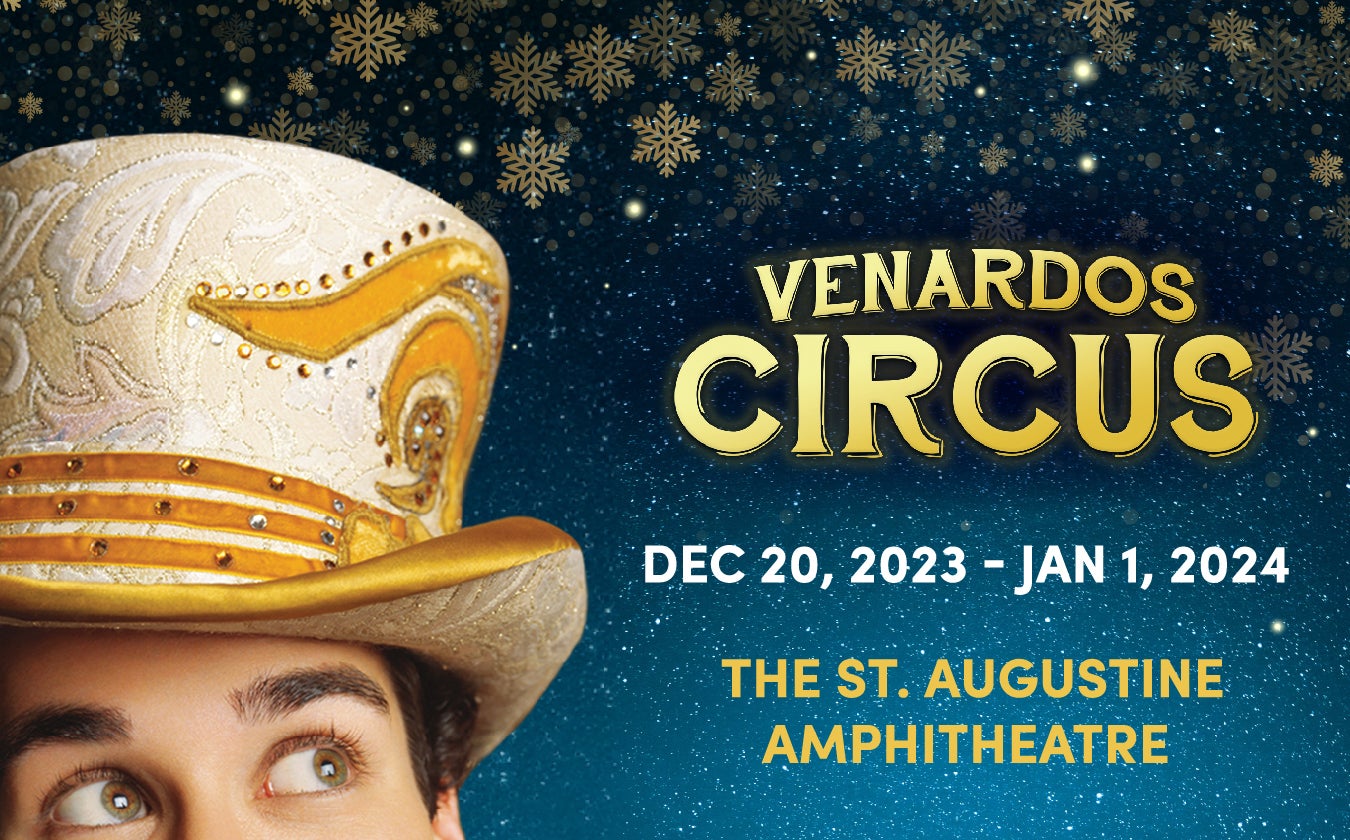 Dec
20
, 2023
-
Jan
01
, 2024
Venardos Circus
Let's Build a Dream Tour
Date

Dec

20

, 2023

-

Jan

01

, 2024

Ticket Prices

$16.95 - $54.95

On Sale

On Sale Now
Venardos Circus
Let's Build a Dream Tour
Event Details
Back by popular demand the fabulous Venardos Circus (veh-NARR-dos), a Broadway-style animal-free circus, is returning to St. Augustine just in time for the holidays! The show will be held at The St. Augustine Amphitheatre, 1340C A1A S, St. Augustine, FL 32080, with its all-new "Let's Build a Dream" Tour from December 20, 2023 – January 1, 2024. This season the wondrous Venardos Circus cast will take audiences on a journey under the big top as it unveils a fresh, magical, and all-new experience for fans. The show features some original music, amazing performers, stunning lighting, and dazzling costumes. The 2023 Venardos Circus is traveling with a new, custom-crafted, Italian-made red-and-white striped tent that offers expanded seating around a central stage for an immersive experience.
"Our cast and crew is thrilled to be returning to St. Augustine with a brand-new show," said ringmaster and producer, Kevin Venardos. "This story promises to amaze and inspire and may even tug at a few heartstrings. It takes heart, courage, and tenacity to build a dream, but the outcome can be beautiful. That's the message we hope to convey and share with the people of St. Augustine and the surrounding area."
Guests can expect to be transported back in time to the center ring of a centuries-old tradition, but one that has been reinvented for the next generation. Show schedule will be as follows:
Wednesday, December 20– 7:00 p.m. OPENING NIGHT!
Thursday, December 21 - 7:00 p.m.
Friday, December 22 – 7:00 p.m.
Saturday, December 23 – 2:00 p.m. BILINGUAL PERFORMANCE, 5:00 p.m.
Sunday, December 24 – 11:00 a.m., 2:00 p.m., 5:00 p.m. CHRISTMAS EVE
Monday, December 25 – 2:00 p.m., 5:00 p.m. CHRISTMAS
Tuesday, December 26 – 4:00 p.m., 7:00 p.m.
Wednesday, December 27– 4:00 p.m., 7:00 p.m.
Thursday, December 28 – 4:00 p.m. SENSORY FRIENDLY, 7:00 p.m.
Friday, December 29 – 4:00 p.m., 7:00 p.m.
Saturday, December 30 – 2:00 p.m., 5:00 p.m.
Sunday, December 31 – 11:00 a.m., 2:00 p.m., 5:00 p.m. NYE
Monday, January 1 – 11:00 a.m., 2:00 p.m., 5:00 p.m. NEW YEAR'S DAY
The circus performers are also the crew in this traveling tour, much like the original circus tradition. There are no animals in Venardos Circus.
Additional Ticket Information
General Admission tickets starting at $16.95 for youth under age 12 and $27.95 for adults. One babe in arms is admitted free with each paying adult. (One year old or younger per paying adult seated on a lap). Premier Gallery and VIP Experience Reserved seating are available. In the new larger tent, fans will still enjoy the intimate feel and proximity to the performers but with enhanced views of aerial acts due to the taller design of the tent. The VIP Experience will offer assigned seating closest to the stage with guests escorted to their positions, provided with a special swag bag, and awarded with other special experiences. Premier Gallery seating will occupy a multi-tier riser to provide greater visibility.
Please visit www.Liveyourcircusdream.com for more information.
Doors open an hour prior to showtime. Concessions available when doors open. Classic circus treats like fresh popcorn, cotton candy, house-made all-natural pink lemonade, packaged candy, and more are available for presale online or in the tent. Complete show schedule available at www.VenardosCircus.com.
Parking area is flat so there is easy handicap access between the lot and the tent.
Concessions are available but we encourage guests to order online when purchasing tickets. Contactless payment options available.
The main event lasts approximately 90 minutes, with a brief intermission.
The Venardos Circus, a unique Broadway-Style Circus performance, has been touring the U.S. since its debut at the L.A. County Fair in 2014. It is reinventing the American Circus tradition for a new generation with Broadway-style flair, bringing joy to people across the U.S. Theatre lovers and nostalgic circus fans alike will appreciate the intimate experience and sentimental way the show pays homage to circus traditions through the lens of high-quality entertainment for a modern family audience.